Apple Crisp Cheesecake Recipe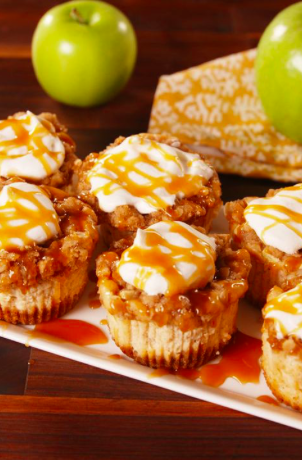 I tested this recipe out as a thanksgiving dessert and everybody loved it! The whipped cream, caramel, and apples were an excellent touch that added to the deliciousness.
Ingredients:
Graham crackers
Granulated sugar
Butter
Salt
Cream cheese
Large eggs
Sour cream
Caramel sauce
Sugar
Vanilla extract
Ground cinnamon
Apples
Brown sugar
Flour
Oats
Whipped cream
Directions for making the Apple Crisp Cheesecake:
Preheat oven to 325 degrees and gather muffin pans. Spray the muffin pans with cooking spray to prevent sticking.
Crush graham crackers and line the in the muffin tray.
Mix cream cheese, eggs, sour cream, caramel sauce, sugar, vanilla, cinnamon, and salt. Beat until all of these ingredients are combined. Pour this on top of the graham crackers in the muffin tin.
Then mix the brown sugar, flour, oats, cinnamon, and butter. Pour this as the final layer. Line the top with slice apples.
Keep in the tray in the oven for about 30 minutes. When the Apple Crisp Cheesecakes are ready, let the cool in the refrigerator for about 2 hours.
(Optional) Add whipped cream and caramel drizzle on the top of each one.