Cross Country Season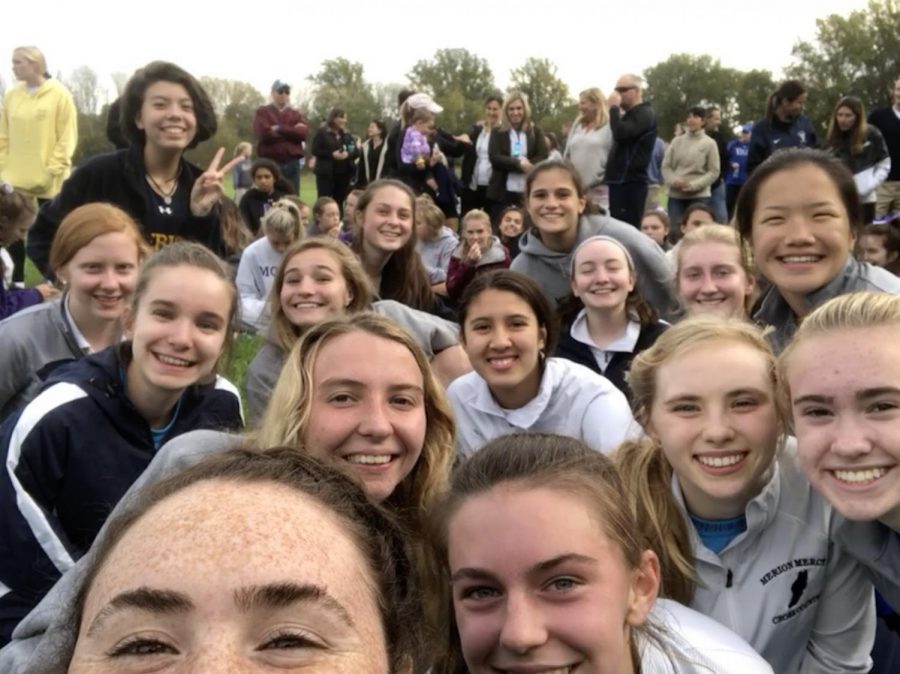 Running is a mental sport, and these girls are insane! They willingly sprint 3.1 miles and enjoy doing it. People who play a fall sport or teachers leaving school for the day have spotted the XC girls stretching or performing numerous drills in front of the softball fields. As the season comes to a stop, members of the Merion Mercy Cross Country team reflect on their accomplishments and achievements this season.
     Preseason began at Haverford College on August 12. The mornings were early, some drives were far, and the weather was muggy; nevertheless, they ran. They ran about 15 miles each week, with sprinting workouts scattered throughout the days. Girls who had never run cross country before pushed themselves and the girls who ran last year challenged themselves to run faster. The team sprinkled in some fun during the sweaty summer practices. They practiced at Boathouse Row one day, had a team breakfast, and even incorporated ice cream. With preseason complete, the Merion Mercy Cross Country team strided towards the regular season.
     The team competed in multiple AACA meets after school on Wednesdays and various Saturday meets. Unfortunately, excessive heat and thrashing rain resulted in the cancelation of their meets at Rosetree and Malvern. Notably, they suffered two meets at St. Basils and survived a meet at the Mount. The team loved running Saturday meets. Dedicated team parents set up a tent and brought food, such as muffins and granola bars, to motivate the team on the early Saturday mornings. In addition to running relays at Belmont Plateau and participating in Penncrest Invitational, the team raced through a safari at Six Flags Great Adventure in New Jersey. Though they did not see any animals, they rode roller coasters, including Kingda Ka, and most girls set personal records. Many girls suffered injuries during the season. The girls bonded and worked through their pain. They finished seventh in their league.
     This year, new recruits across three grade levels flooded the team. With four freshman, one new junior, and three new sophomores, the team had 14 runners – a great improvement from last year's eight. Morgan Doyle '21 commented that joining the cross country was an experience that she'll never forget. "The friends and memories I made made stayed with me long after I crossed the finish line. I'm so glad I woke up and ran!"