Night of Scenes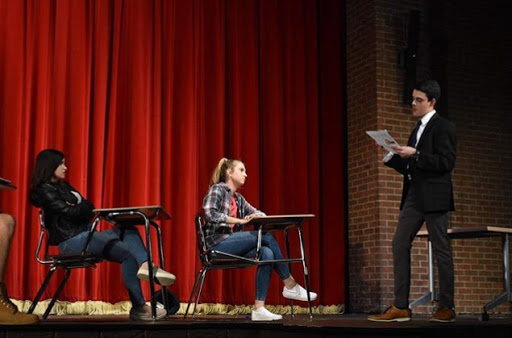 From January 31st to February 2nd, St. Joseph's Prep held its ninth annual Night of Scenes. Auditions were held in early January and a large number of Merion girls participated! Additionally, Night of Scenes featured students from Moorestown High School, Mount Saint Joseph's Academy, Notre Dame, and Sacred Heart Academy.
A total of seventeen 'scenes' or skits were performed including three musical numbers. The scenes were funny, enjoyable, and very entertaining. The actors and actresses were very incredibly talented and really engaged the audience in what they were doing. There was not a dull moment during the whole two-hour event.
Molly Chamberlain '21 played a role as a dancer/singer in the first scene titled "Magic to Do" from Pippin. She says, "I think Night of Scenes is such a great experience because it brings together all different people, some of whom have never been up on a stage before. It's an amazing opportunity to meet new friends, make people laugh, and of course, have fun!"
Each time a new scene came onto stage, the audience was left on the edge of their seats, wondering for what could come next. Whether it be a musical number or an iconic SNL skit, the audience was fully engaged and laughing at every moment!
As sad as we all are Night of Scenes has ended, Saint Joseph's Prep's spring show is underway. Cape and Sword is proud to present Spamalot! Stay tuned for more information on show dates!
Night of Scenes is an amazing experience that is worth participating in. Everyone loves it and it is highly recommended by people who did it this year.