Women's March 2019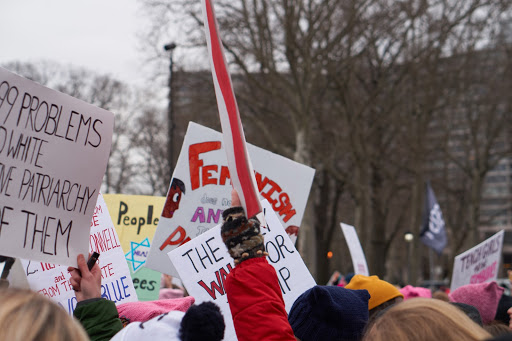 In the wake of the 2017 Presidential Inauguration, a group of women organized a protest and held the first Women's March on January 21, 2017. Founded on the belief of equality for all, the Women's March organization fights not only for women's rights, but also fights for racial justice, an end to violence, immigrant rights, LGBTQ+ rights, worker's rights, disability rights, and environmental justice.
Two years later, these issues remain relevant. 
On January 19, I went downtown for the 2019 Women's March with a camera in hand. The march began at Logan Circle, but signs were visible and drum lines could be heard in the surrounding blocks from City Hall to the Franklin Institute. Due to a chilly forecast of 20℉, the march drew a smaller crowd than in 2017 and 2018, but by 10:15 am several thousand people of all ages began to march down the Benjamin Franklin Parkway. Hundreds of bright signs bearing various messages were visible above the crowd, and the now-ubiquitous chant call of "What do we do?" and response, "Stand up, fight back!" could be heard as the march moved towards the Philadelphia Art Museum steps.
Around 11:15, the protest had reached the Art Museum steps, where the organizers of the Philadelphia Women's March took the stage to welcome everyone gathered. Their message of equality and rallying cry of empowerment was followed by Philadelphia Mayor Jim Kenney, who spoke about how his mother was the greatest influence on his life. The afternoon brought student leaders from March For Our Lives, choirs, a dance troupe, speakers from a Native American reservation and Puerto Rico, and activists from several other organizations.
The motive for attendees of the Women's March on that chilly January morning was best summed up by Jodiva Hill, the Executive Director of the Philadelphia Office of Engagement for Women, saying, "Our voices are our power, don't forget it."