Stress Baking
Are you super stressed for finals? A helpful way to relieve that end of year anxiety is baking! Baking offers a healthy outlet for stress and provides a delicious treat! Here are two tasty recipes:
Peanut Butter Snickers Cookie Recipe from Sally's Baking Addiction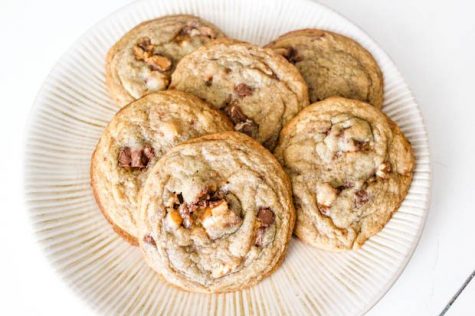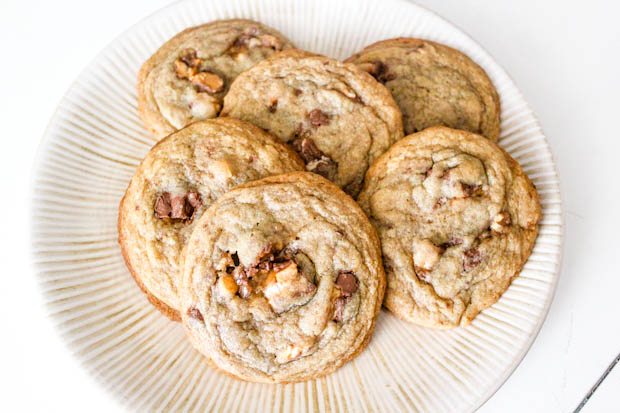 Ingredients:
2 cups + 2 Tablespoons all-purpose flour
1/2 teaspoon baking soda
3/4 cup (1.5 sticks) salted butter, softened to room temp
1 cup light brown sugar, packed
1/2 cup granulated sugar
1 egg, at room temperature
1 egg yolk, at room temperature
2 teaspoons vanilla extract
1 and 1/2 cups chopped Peanut Butter Snickers bars, frozen
Directions:
Roughly chop peanut butter snickers into pieces. Place in a small bowl and stick in the freezer while you prepare the dough.

Preheat oven to 325˚F degrees. With an electric or stand mixer fitted with a paddle attachment, cream together the butter and sugars on medium speed. Add the egg, egg yolk, and vanilla and mix well. Gradually add the flour mixture and stir until a dough forms. Fold in frozen peanut butter snickers pieces.

Chill dough for at least 30 minutes in the refrigerator.

Scoop 1.5 tablespoons of dough and drop onto ungreased baking sheet or silicone baking mat.

Bake for 10 minutes or until edges are slightly browned. The centers will look soft. Allow to cool for 5 minutes on the baking sheet before transferring to a wire rack to cool completely.
Sunflower Cupcakes from Sally's Baking Addiction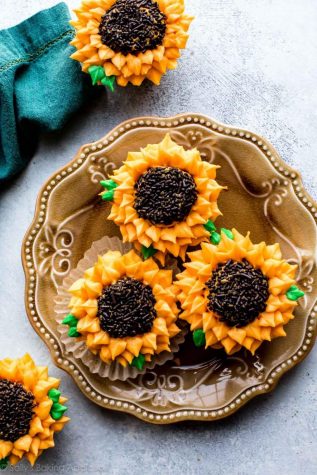 Ingredients
1 cup (230g) unsalted butter, softened to room temperature
5 cups (600g) confectioners' sugar
1/4 cup (60ml) heavy cream
2 teaspoons pure vanilla extract
salt, to taste
yellow, orange, & green food coloring (I use Americolor gel coloring)*
chocolate sprinkles
12–14 baked and cooled cupcakes
Instructions
With a handheld or stand mixer fitted with a paddle attachment, beat the butter on medium speed until creamy – about 2 minutes. Add 5 cups confectioners' sugar, the heavy cream, and vanilla extract with the mixer running on low. Increase to high speed and beat for 3 full minutes. Add another Tablespoon of cream if frosting is too thick. Add a pinch of salt if frosting is too sweet. (I like 1/8 tsp salt.)

Spoon 3/4 cup of frosting into a separate bowl. Stir in green food coloring. This will be for the leaves.

Tint the remaining frosting with yellow and orange food coloring to obtain desired sunflower color. See note for which food coloring used.

Fill piping bag with leaf tip + yellow frosting. If you have a second leaf tip, fill a 2nd bag with leaf tip + green frosting.

Pipe or spread a circle of frosting in the center of the cupcake. Cupcake centers should be about 1.25 inches in diameter. Dip into chocolate sprinkles.

Start on the outer edge of the cupcake. Pipe yellow petals all the way around, lifting the piping tip in an upwards direction. Pipe a second layer closer to the center/on top of the first layer. Pipe a third layer of petals right against the center of the sunflower. Pipe any additional petals to fill any gaps, then pipe a couple green leafs on the edges.

Refrigerate cupcakes until ready to serve. Cupcakes are fine at room temperature for a few hours, as long as they have been refrigerated for a couple hours after frosting/assembling. (The time in the refrigerator helps the petals hold their shape before serving.)

Cover leftover cupcakes and store in the refrigerator for up to 5 days.
Additional Notes for Baking
Special Tools: KitchenAid Stand Mixer | Cupcake Pan | Cupcake Liners | Piping Bags | Wilton #352 Tip | Americolor Soft Gel Paste Kit | Chocolate Sprinkles
Food Coloring: To get the exact colors I have in these photos, use Americolor gel coloring. For the golden yellow, use 3 drops of the "lemon yellow" color mixed with 1 drop of the "orange" color. For the green leaves, 1-2 drops of "leaf green."