Mother's Day Macarons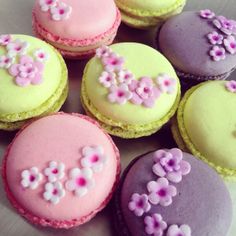 Celebrate Mother's Day this year by making your mother these precious macarons. While beautiful and complex in appearance, these treats are simple to make and will without a doubt impress your mother.
MACARONS
3 large egg whites

1/4 cup fine granulated sugar

2 cups powdered sugar

1 cup almond flour

1 pinch of salt

1/4 tsp cream of tartar
Method
Measure out of all of your ingredients.

Whip the egg whites until foamy. Add the salt, cream of tartar, and fine granulated sugar.

Whip mixture until completely stiff peak.

Add food coloring as desired and mix well. Make sure to go a little darker, the color will lighten as we add the other ingredients.

Sift the powdered sugar and almond flour together into a bowl.

Fold egg whites into powdered sugar/almond flour mixture.

Gently

fold approximately 70 times.

Place macaron batter into a pastry bag with a plain tip.

Pipe 1" – 1 1/4 " rounds onto parchment lined sheetpans.

Firmly tap sheet pan 3 times.

Let sit 20-25 minutes until the outside has dried. When lightly touched, the batter should not stick to your fingers.

Bake at 300° F for approximately 20 minutes. Turn pan half-way through the baking process to have more consistent baking.

Let cool, remove from parchment with a metal spatula.

Fill with desired filling. (flavored buttercream)

Keep refrigerated until ready to eat. They are even better if you wait and refrigerate 24 hours before eating.