Faith Impacted for MMA
Due to the pandemic, churches have been closed down for the safety of the community for months. This has raised many questions of faith. How does faith become or remain important?   How can you keep it, especially during rough times when it seems like the world's against you? What truly defines faith? How has Merion worked to sustain the importance of faith during days of quarantine? To find some answers to these questions, I conducted several interviews with members of the Merion Mercy community.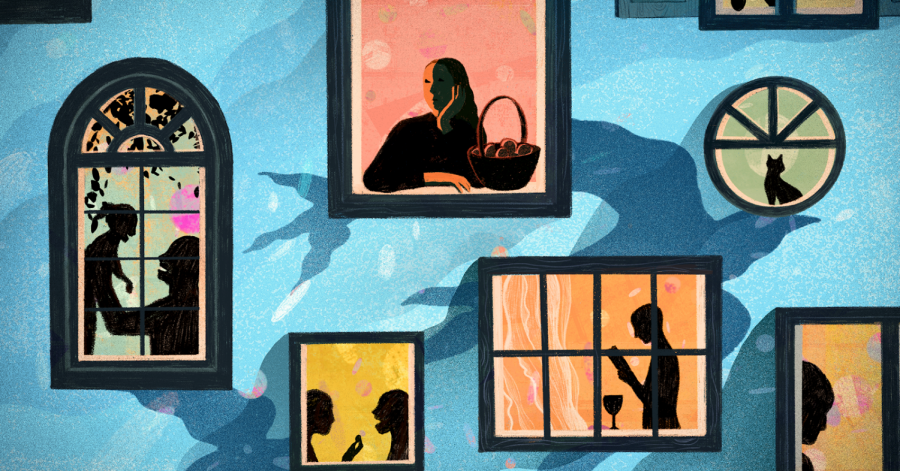 "My faith isn't separated from other people, my faith very much connects me to others because faith is about belief in God as well as belief in people."  –  Sr. Anna Saltzman 
I first interviewed Sister Anna Saltzman, who has been director of the ministry for a long time at Merion.  For Sister Anna and her community of sisters, faith is more than a word: it's a way to relate to people. Sister told me that people interpret faith as a manner of giving others hope, which she keeps in mind when organizing masses and other ceremonies for us to enjoy. She expresses pride in doing her missionary work to help others, though she admits it can be difficult working with new technology. A typical virtual mass is conducted in the morning on zoom. It includes calls to worship, scripture, songs, and intentions that are privately shared in our chat.   In my experience, this ritual worship provided opportunities for students and faculty members to share their pain, maybe for the first time. The rest of the community expresses hope for those who are sick or away from home. It is the small gestures that connect us during isolation and help us understand that everyone is struggling.
"The pandemic has made it harder for some people because of the isolation but I also think that it's good for people to rest in a sense."  – Ms. Abigail Gorman 
Ms. Abigail Gorman was open to being interviewed on a different perspective on how faith has impacted others. As a campus minister, she works alongside  Sr. Anna Saltzman, who shares that it is normal to be away from God during this time. Different struggles can impact beliefs differently according to Ms. Gorman, who talked about how her faith has grown even more during the pandemic. A way she is able to keep believing in God is by listening to scripture that captures what she's going through. She shared that the Sea of Galilee story resonated for her during this time. This story not only delivers how personal on how Ms. Gorman is feeling spiritually but also her hope that she and the rest of her community will get through this challenging time for a sea of hope to come. 
"For me, these are the times I turn to faith during everything because where I have to lean on God… it can be easy to think that and it's important to remember that we're not alone." – Mr. Kyle Thompson 
Theology teacher Mr. Thompson gave deeper insight into what faith means by describing it as trust. Trust can be difficult during these times where our questions remain unanswered, especially when people's lives are in danger.  It's important to understand at least for me that it's hard to trust the process when God the Father doesn't always give signs in big ways. Rather, his signs are small ones that we often miss, such as the wonder of being alive or the luxuries of food shelter. Mr. Thompson admitted that he and his family struggled when the churches closed down with his family. Additionally, he remarked that especially during these times, people often forget about their own health and how it isn't a normal feeling to just shake off. Our theology teacher assured me that finding a central focus in your schedule whether through meditation or others, can help keep your body healthy both mentally and physically. 
"…I think we live in a world where we need to focus and prioritize what is ultimately important in our relationships… Sometimes we need to take a back seat. Family and friends and life itself are needed to fallback on which kinda affects our decisions."   – Mr. Michael  J. Sims 
Micheal Sims is a theology instructor known to be humble and wise when students ask him for advice. Mr. Sims described his relationship with God as "parental love."  He feels a connection with this type of love as a parent himself to give his kids that same feeling.  He informed me of his belief that relationships have an incredible impact on our lives. Especially during this time, it is necessary to help out those that need it and to ask for help ourselves when we're struggling because you never know when it might be the last moments with someone. 
"The search retreats really invite retreatants to really use the word journey, to journey with themselves, to each other in asking questions of faith and meanings."  -Mr. Jeffrey Mayer 
Jeffrey Mayer, the theology department chair,  evokes his personal connection with faith by talking about his spiritual journey. The journey dates back to when he was in elementary school and the retreats become a special place to learn more about others. He explains this by saying that soon he too turned from a student to a leader of retreats in the hope to do the same for others. Retreats are a special moment within Merion Mercy Academy as a yearly time with each class to reflect on their past experiences and bond more with others. It's by this discovery that Mr. Mayer told me that without receiving the sacraments has become hard with him because of the restrictions of social distancing. Often people bring out the meaning of the sacraments during rituals but explained that Merion Mercy gives him that feeling back in different ways. People being with others fulfills the necessity of how much you mean to others and enriches beliefs to remain strong in times of pain. It gives hope to see people well and recover from different situations day by day and how Mr. Mayer is full of faith. 
It is important to understand that not everyone's faith changes -even during a pandemic- because of their past experiences with faith or not connecting to it at all. For one Anonymous student, the religious ceremonies at Merion can sometimes be difficult to go to because of the disconnection. Often young people still find time to figure out what is important to them and what brings them that feeling of sanctuary. A sanctuary doesn't essentially have to be a church per se, it can be a home, it can be a garden, any way to feel safe for an individual to release their stress.  As Christians, we shouldn't question someone's decision to not go up to the altar or their participation in religious services because everyone's path is different. Skipping prayer opportunities doesn't necessarily mean they are disrespecting our tradition; perhaps they're finding other faith practices that work for them. This is the beauty of MMA: to observe and respect different faiths in one place.  As members of MMA, sometimes the courtesy of respect is an opportunity to learn about others, even if we believe something else. We can rely on friendship, faculty, and family and cherish time together as we stay hopeful and find ways to nurture our individual faith. 
It's important to keep in mind that everyone, students and teachers alike, have different experiences when it comes to faith, and we should respect the diversity of faith within our community. Especially now, it is important to provide hope through prayers for the sick, the first responders and the homeless and to keep in mind that everyone has struggles. We should also make sure to check in with others, assuring them that there is hope and that they matter. Our ultimate goal at Merion Mercy Academy, whether we are asynchronous or synchronous, Catholic or non-Catholic, is to grow in compassion and resilience as a community.