Merion Mercy Music Theater presents Anastasia the Musical!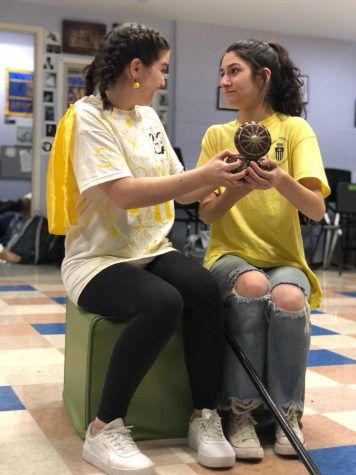 The magic of theater lives on as our very own theater program, Merion Mercy Music Theater, presents Anastasia the Musical! The cast of Anastasia has been rehearsing each week since January. Directed by Chris Monaco, this Merion theatrical production includes an ensemble of 40 young actors, singers, and dancers to bring this enchanting story to life.
Anastasia follows the story of Anya, a spunky, young woman living in a post-revolution Russia. She is plagued with amnesia and longs to find her family and learn the truth of her past. When she encounters new friends, conman Dmitry and ex-aristocrat Vlad, the trio flees St. Petersburg to Paris, France. Along the journey, Anya tries to piece together the memories of her past. Is she really the lost princess, Anastasia Romanov? Or is it all a facade used to earn the Dowager Empress's reward? With iconic Broadway ballads like "Journey to the Past" and "In My Dreams," this hopeful tale tugs at audiences' heart strings.
This year, MMMT has 14 graduating seniors. Over the years, they have grown and loved theater throughout the unprecedented times. Three words that describe the story of Anastasia and Merion Mercy Music Theater: home, love, and family. Bella Privitera is an MMMT veteran, as she has performed in all eight shows throughout her time at Merion. In her final show, she is over the moon to portray Anya, the musical's heroine. When asked to look back on her time at MMMT, especially on Anastasia, she says:
"Playing Anya in Anastasia has been nothing short of a dream come true. I've had an incredible time portraying this beautiful character, and I feel so fortunate to share her remarkable story. Anastasia, a tale of discovery through a resilient, young woman will certainly find a way to impact each and every audience member this March. The experience I've had working with such unbelievably talented and thoughtful people as Christopher Monaco, Mallory Rieger, and Dan Matarazzo has been a gift. Not to mention, the entire cast and crew have worked diligently, and have poured their hearts and souls into this production. Throughout my four years at Merion, I've participated in every MMMT drama and musical. While I cherish each one of them, Anastasia will forever hold a very special place in my heart. My hope is that everyone reading this decides to come to see Anastasia and join along on Anya's 'journey to the past!'"
Anastasia will be performed the last weekend of March with performances at 7pm on Friday the 25th, Saturday the 26th, and a 2pm matinee on Sunday the 27th. Shows will be at the Rotwitt Theater at the Rosemont College in Bryn Mawr. If you want to purchase tickets, click here. This is a show you do not want to miss!