Student Athlete Feature – Jess Glancey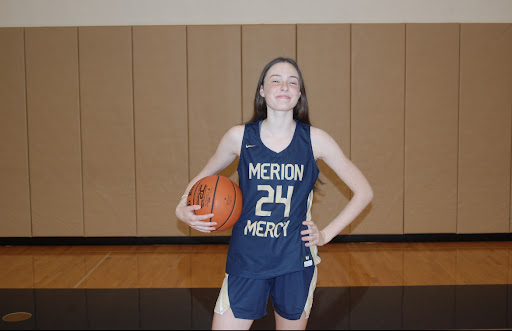 "Merion basketball, in one word, is rewarding. Over the last three years, I've gotten to be a part of something truly fun and challenging and learn from the best teammates I could ever ask for."
Jess Glancey, a junior at Merion, is a member of the basketball team and crew team, as well as a member of the Merion Mercy Mission Corps. Jess's excellence certainly shines through in the classroom, the hallways, on the river, and especially, on the court. Ricordia staff writer, Casey Fosbenner, interviewed Jess and learned about her experience as a member of the Merion basketball team in the midst of her junior year season.
Jess has played basketball since a young age, beginning at her grade school, St. Anastasia in Broomall, PA. Along with her grade school team, she also played for two competitive AAU basketball teams: the Delco Wildcats and the Comets. When asked about her favorite female athlete, Jess chose Natasha Cloud of the Washington Mystics. "She's someone who grew up and went to school in the same area asme and that I love to be able to see play on TV. I still remember her coming to a practice for my grade school because she knew our coach and wanted to help teach us fundamentals that got her to where she is today." 
On the Merion basketball team, Jess is a forward, which requires her to make smart passes to her teammates and use her height to her advantage. This is her third year on the team, and first year on the varsity squad. When asked about her pre-game rituals, Jess reveals that she fuels up with a clementine or banana and listens to her favorite pre-game "pump up song", Heartbeat by Childish Gambino. When talking about her favorite memory with the team, Glancey says, "My favorite memory with the MMA basketball team is a favorite for many of us, playing our district game versus Mount last year winning 32-31. It was really fun to have a big student section come out far to support and then be there to celebrate when we won." 
Ricordia wishes Jess and the entire Merion basketball team the best of luck as their season continues!