Valentine's Day Recipe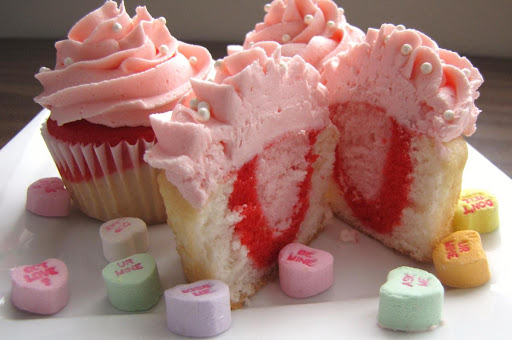 These delicious Sweetheart cupcakes are perfect to share with a loved one and even friends and family! They are perfect treats for Valentines Day or any day when you want to spread love and kindness!
Ingredients needed:
1 package of white cake mix

1 ¼ cups of water

⅓ cup of vegetable oil

3 egg whites

Red food dye

Raspberry candy oil
Directions:
Preheat the oven to 350 degrees F.

Place cupcake holders in a standard muffin tin.

Beat together the cake mix, water, vegetable oil, and egg whites on low speed for 30 seconds, then on medium for 2 minutes, until smooth.

Fill the cupcake holders ⅓ full with the white batter.

Stir 4 drops of red food coloring into the remaining bowl of batter to make the batter pink and stir in two drops of raspberry candy oil.

Pour ⅓ of the pink batter into a resealable bag and set it aside.

Mix more food coloring into the remaining bowl of pink batter until it turns red and pour the batter into a resealable plastic bag.

Cut off a corner of the bag with the red batter and squeeze in about two tablespoons of red batter into each cupcake holder.

Repeat step 8 with the pink batter but instead only squeeze in about one tablespoon of pink batter into each cupcake holder.

Bake the layered cupcakes in the preheated oven for about 15-20 minutes.

Cool completely before frosting.

Enjoy!